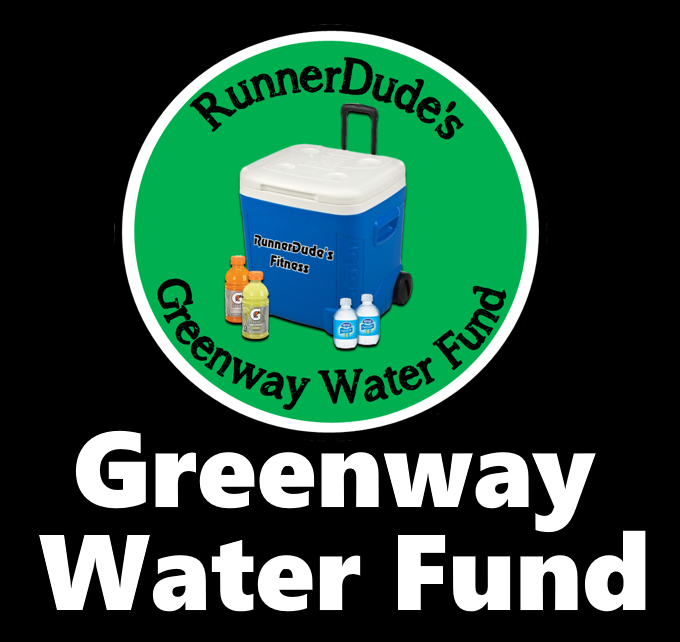 As a commitment RunnerDude's Fitness has made to help keep Greensboro runners and walkers well hydrated year-round, each year RunnerDudes Fitness puts out close to 10,000 bottles of water and Gatorade along the Atlantic & Yadkin Greenway. You'll find the bottled water and Gatorade in blue RunnerDude coolers at Lake Brandt Rd, Owls Roost Rd, and at Strawberry Rd. along the Atlantic & Yadkin Greenway and at the Spencer Love Tennis Complex parking lot adjacent to Country Park. We also but out additional 2500 bottles of water during May and June for the RunTheBoro routes.
Donations are Welcome.
Physical donations of bottled water (the small 8oz bottles) and/or Gatorade (the small 12oz bottles) are welcome and can be dropped off at 2309 W. Cone Blvd. Ste. 120. We are in and out of the studio with clients all day, but someone is usally at the studio 5:00pm-6:30pm M-F. If no one is there, it you may leave donations at the front door of the studio.
Monetary Donations are Welcome too!
If you'd prefer to make a monetary donation to the RunnerDude Greenway Fund you can make a donation via secure Paypal.

All donations physical or monetary are greatly appreciated!